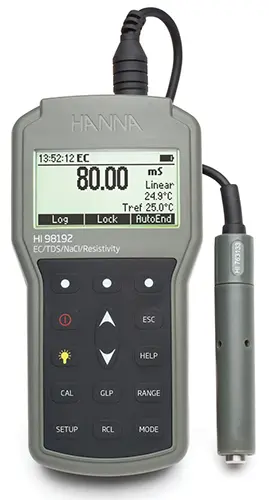 Waterproof Portable EC / TDS / Resistivity / Salinity Meter
This is a rugged, portable EC/TDS/Resistivity/Salinity meter with the performance and features of a benchtop. This professional, waterproof meter complies with IP67 standards. The HI98192 is supplied complete with all accessories to perform an EC/TDS/ Resistivity/Salinity measurement packaged into a durable carrying case.
Four Ring Probe
Quick Connect
Ergonomic, One-Handed Operation
One Stop Shop for Your Needs Make sure your devices are properly calibrated. Ensure your device is in good working order. Need a device on short or long term?.