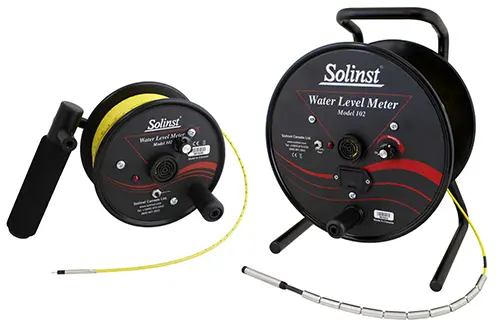 102 P10 Water Level Meter
The Model 102 Water Level Indicators use narrow cable to measure water levels in tight spaces. The segmented P10 Probe offers greater flexibility in angled piezometers and assist in bypassing down-hole restrictions or pumps when measuring draw-down. The Model 102 Water Level Indicators use the same reliable electronics and reel as the Model 101 Water Level Meters; the use of accurately marked coaxial cable makes it a more affordable option. The cable has a tough polyurethane jacket with laser markings each millimeter or 1/100 ft. The braided copper outer conductor provides flexibility, while the stainless steel central conductor reduces stretch and resists corrosion. The cable is easy to repair and splice.
One Stop Shop for Your Needs Make sure your devices are properly calibrated. Ensure your device is in good working order. Need a device on short or long term?.