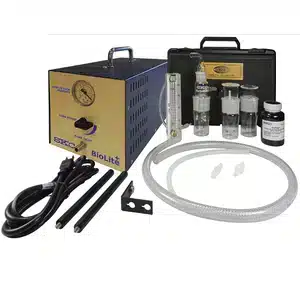 The SKC BioLite+ Pump was specifically designed for use with the SKC BioSampler for sampling airborne biological hazards (e.g. fungal spores or bacteria) in the form of bio-aerosols, and is an enhanced version of the SKC BioLite Pump. It has a high flow rate, up to 62 L/min and has a back pressure gauge which indicates when sonic flow has been achieved when used with a BioSampler. The BioLite+ pump allows you to sample onto a liquid medium.
The BioSampler must be operated with a high volume sonic flow pump, such as the BioLite/BioLite+ Pump, that can maintain 15 inches mercury or 0.5 of an atmosphere of downstream pressure in the system. The BioSampler's three tangential nozzles act as critical (sonic) orifices, each permitting 4.2 L/min of ambient air to pass through for a total flow rate of approximately 12.5 L/min. Collection liquid with a viscosity much higher than water, such as ViaTrap (special mineral oil), can be used with the BioSampler to provide constant collection efficiency over an 8 hour sampling period.
One Stop Shop for Your Needs Make sure your devices are properly calibrated. Ensure your device is in good working order. Need a device on short or long term?.