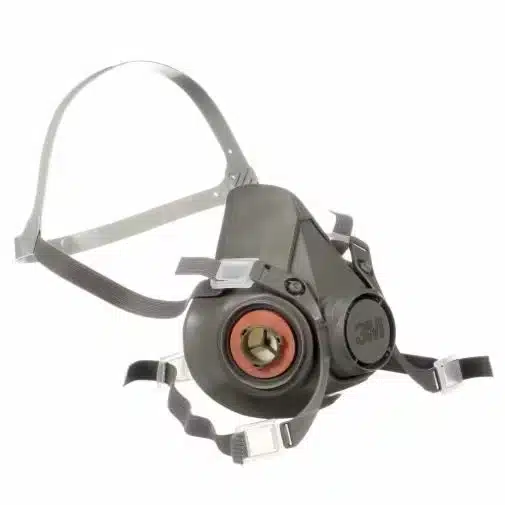 The 3M™ Half Facepiece Reusable Respirator 6000 Series actively provides protection against particulates and a variety of gases and vapors, especially when paired with approved cartridges and filters. Moreover, when correctly fitted and utilized with 3M™ cartridges and filters, this respirator effectively shields users from harmful concentrations up to 10 times the Permissible Exposure Limit (PEL). Its innovatively swept-back cartridge design enhances both balance and visibility.
Featuring a remarkably comfortable, soft, and lightweight facepiece, the respirator also boasts easily adjustable head straps, allowing for a personalized fit. Additionally, the use of replaceable cartridges not only minimizes waste but also optimizes cost efficiency over time.
Endorsed by NIOSH, a Federal government regulatory agency, the 6000 Series Half Facepiece has undergone rigorous testing and approval for use with 3M cartridges, filters, or supplied air systems. This series has earned NIOSH approval for both negative-pressure air purifying and positive-pressure dual airline applications. The respirator is versatile, compatible with 3M™ Cartridge 6000 Series, 3M™ Filters 2000, 2200, 7000, or 5000 Series, or 3M™ Dual Airline Systems, providing protection against various gases, vapors, and particulate hazards as per NIOSH approvals.
Exposure to hazardous particles, gases, and vapors can pose significant health risks. Consequently, the 3M™ Half Facepiece Reusable Respirator 6000 Series plays a crucial role in reducing exposure to a multitude of contaminants, safeguarding your health in challenging environments.
One Stop Shop for Your Needs Make sure your devices are properly calibrated. Ensure your device is in good working order. Need a device on short or long term?.