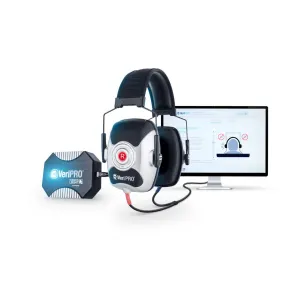 VeriPRO Fit-Testing System
VeriPRO makes it easy to get an accurate, real-world picture of your employees' hearing protection. Find out whether your employees are receiving optimal protection, require additional training on how to fit their earplugs, or need to try a different model. VeriPRO uses sophisticated software in a user-friendly format to find out the Personal Attenuation Rating [PAR] your employees are receiving from their earplugs.
Measures real world attenuation by using unmodified earplugs• Simple software installation and hardware set-up
Fast, accurate, easy-to-understand results displayed within minutes
Captures and stores historical information on employee PAR
Fulfills regulatory requirements to "ensure proper initial fitting" of hearing protectors
Works with any earplug
One Stop Shop for Your Needs Make sure your devices are properly calibrated. Ensure your device is in good working order. Need a device on short or long term?.