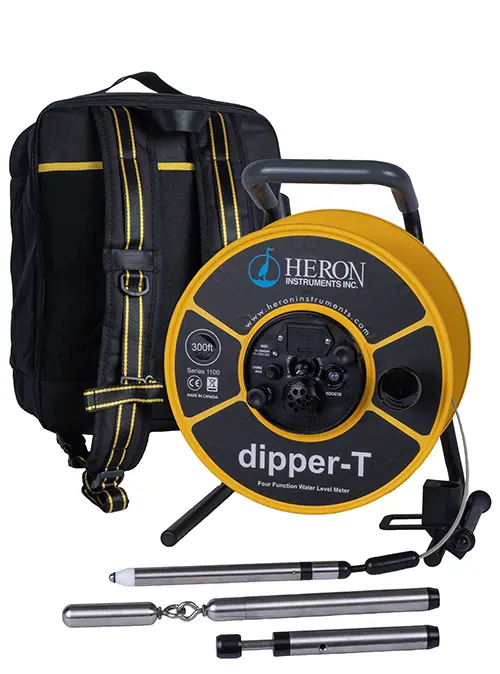 Dipper-T Water Level Meter
The dipper-T water level meter is an excellent tool for well drillers, consultants and hydrogeologists all across the globe. This water level meter is ideal for professionals who require the most accurate measurements of water levels, as well as length of well-casing and total well-depth.
The dipper-T is equipped with a yellow steel tape jacketed in polyethylene, a fully submersible probe and a padded carry case. This water level meter can be conveniently converted to a multi-functional instrument not only able to measure static and falling head levels but also to determine the length of casing and well depth. The water level sensing probe can be easily removed at the link connection and substituted with either the optional Well Casing Indicator Probe or Well Depth Indicator Probe.
The multiple function capability of the dipper-T water level meter makes this unit an asset to groundwater professionals and rural property owners during the construction of new wells, maintaining wells or decommissioning abandoned wells.
One Stop Shop for Your Needs Make sure your devices are properly calibrated. Ensure your device is in good working order. Need a device on short or long term?.