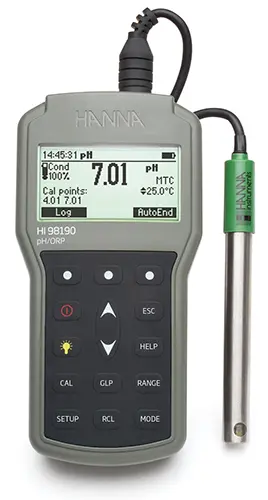 Professional Waterproof Portable pH/ORP Meter
Bring the performance of a benchtop pH meter with you when you use the HI98190 handheld pH meter. This professional, waterproof meter accurately measures pH, ORP and temperature. Built-in diagnostic features for the most precise measurements and logging so you never miss a measurement, the HI98190 is the perfect tool for environmental and industrial testing.
CAL Check electrode diagnostics system alerts you to potential calibration problems so that you know your results are trustworthy every time.
Everything you need for field testing in one compact, durable carrying case.
Great for environmental and industrial testing.
One Stop Shop for Your Needs Make sure your devices are properly calibrated. Ensure your device is in good working order. Need a device on short or long term?.